PLOS Medicine PLOS Medicine is the leading open-access medical journal, providing an innovative and influential venue for research and comment on the major challenges to human health worldwide.
Freely available Making the world's scientific and medical literature a freely available public resource.
PLOS Medicine paper
The full PLOS Medicine paper that IVFpredict was based is now available for free download.
more info
Publications Overview
Professor Scott Nelson, Professor Debbie Lawlor and Dr Tom Kelsey have published more than 500 research papers. You can download some of these for free.
Several of these publications are directly relevant to IVF, ensuring that patients get individualised treatment, optimal outcomes and maximal chances of a live birth. These include:
Use of AMH as a marker of
your ovarian reserve
Find more papers by the authors
Ongoing Research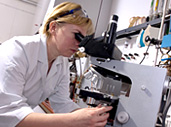 The team have several ongoing projects trying to
improve IVF live birth success rates and develop novel reproductive lifespan prediction models
If you would like to test IVFpredict on your own clinic data we would love to hear from you.